32-ounce bottles of ready-to-drink half-caffeinated cold brew
Tasting notes: Chocolate and Molasses
All the hard work is taken care of by the time this package lands on your doorstep. We roast, blend, grind, brew, dilute, package, and ship it straight to you. Just open up and enjoy! NOTE: For best enjoyment please store cold and serve over ice!

Best within 45 days after receiving.
To purchase this item as whole bean roasted coffee, click here!
Regular price
Sale price
$18.00 USD
Unit price
per
Sale
Sold out
View full details
Collapsible content
Cold Brew Details

We choose to emphasize cold brewed iced coffee as we believe the cold brewing process noticeably reduces tasted acidity and provides a much smoother drinking experience than brewing hot coffee and cooling it down.

All water used in our cold brewed offerings has been filtered using reverse osmosis and the only two ingredients in each bottle are roasted coffee and filtered water.

What is cold brew? "Cold brewing" coffee is simply an immersion technique where roasted coffee is brewed at a much lower temperature, for a much longer time than the more traditional hot ways of brewing coffee. For example, a French Press would generally use ~200°F water immersed for 3-4 minutes, whereas cold brewing techniques can involve water as cold as ~40°F and brew times as long as 36 hours. The cold brewed coffee sold in our café and online uses ~70°F filtered water brewed for ~18 hours.

We also often receive questions asking if there is "extra strength" or "high caffeine" as a result of the cold brew process. While there are definitely mixed opinions on this subject, it is our opinion that the coffee to water ratio will inform you more about the strength and caffeine content than the brew method. We use about a 1:15 coffee to water ratio in our ready-to-drink offerings (for reference SCAA Gold Cup standards are about a 1:18 coffee to water ratio).
About this blend

This blend was created to serve customers who want or need just a little less caffeine. For this blend, we always combine 50% of one of our caffeinated beans, and 50% of our decaffeinated beans. In creating the blend, we aim to mix two beans that compliment each other well, which usually means sticking with two Central or South American options. We also like to keep countries consistent when possible, meaning a mix of two chocolatey Brazils is a favorite of ours!

Like all Window Seat Coffee blends, the combination of beans may change over time. While we can't guarantee which coffee will be included in this blend, know it will always contain carefully-sourced and -roasted specialty coffee.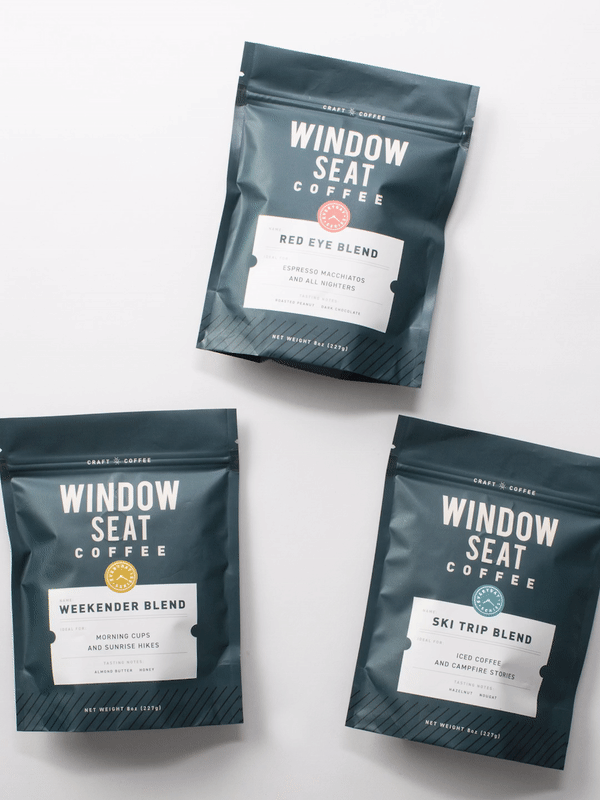 GET AWAY WITH US
Why Window Seat Coffee? 
All coffee is specialty grade and roasted on a Probat with top-of-the-line software to ensure each and every roast is consistent and in line with our standards.
Whether on a quick coffee run, away with the family at the lake, or on an epic trip around the world, we have all experienced the energizing feeling of getting away from it all. Read more about our story here.